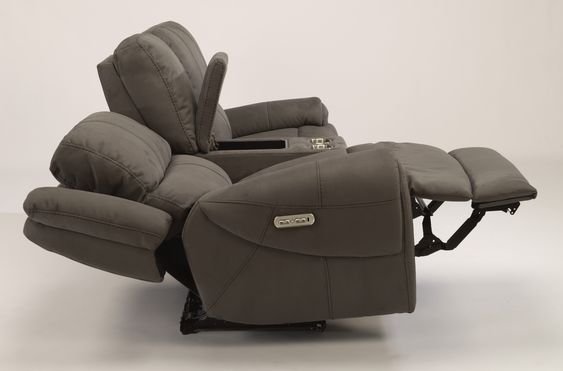 The question in the mind of most power recliners owners is "how long do power recliner motors last?" Since the motors are responsible for the recliners ability to recline, this isn't a strange question. Afterall, of what use is a recliner that cannot recline?
Therefore, this article will deal with the topic question and also let you in on factors that might affect your power recliner motor longevity.
Sit back and relax on your recliner as we arm you with powerful information that will ensure you enjoy your power recliner for a long time.
What is a Power Recliner?
A power recliner is fitted with an electric motor or motors that allow the user to recline and adjust the recliner chair. This is in contrast to a manual recliner chair that is adjusted with a release lever, your body weight, and motion.
A wonderful example of a power recliner recommended by many is the Lifestyle Power Recliner Fabric.
Advantages of Power Recliners over Manual Recliners
The following are the advantages of power recliners over manual recliners:
i. They are more suitable for folks with physical challenges and older folks. This is because power recliners do not require physical exertion to operate.
ii. They are designed with several settings and positions than manual recliners. The various parts of a power recliner can be adjusted to move independently.
iii. Lasts longer than manual recliners since their wear and tear is less.
iv. You can have an insurance cover for your power recliner when used by folks who can't use manual recliners.
Disadvantages of Power Recliners
The following are the disadvantages of power recliners:
i. Power recliners are heavier as a result of the motor and mechanical parts. Hence, taking them apart and moving them can be more demanding.
ii. They are more expensive.
iii. Power recliners are also costly to repair if there is any damage. One of such parts that get damaged often is the footrest. You can learn how to fix yours here.
iv. They are restricted in a manner when it comes to where they can be located in the home. This is because they always have to be close to a power outlet.
So, it can be seen that power recliners have an equal number of advantages and disadvantages. Nevertheless, an advantage that has a lot to do with the title question is the fact that power recliners last longer than manual recliners. But how long do they last exactly?
Check out five differences between a manual recliner and a power recliner in the video below.
How long do Power Recliners Last?
Averagely, a power recliner motor should last between 10 to 20 years. Although this depends to a great extent on how you handle it as well as how often you use: Especially adjusting the settings and the recliner position.
What makes a power recliner different from a regular recliner is the electric motor mechanism it is fitted with. Hence, when we ask how long power recliners last, we are actually asking how long the motors last.
The weight it carries regularly also affects the longevity of your power recliner motor.
The frequent motion of the motors and other parts of the recliner will lead to wear and tear. Hence, you must reduce the actions that can cause such wear and tear to the barest minimum.
Maintaining your Power Recliner Motor
Apart from the factors mentioned above, the longevity of your power recliner power motor depends on quality maintenance.
Below are some important tips you need to follow to maintain your power recliner motor:
i. Connect to the main outlet.

ii. Keep recliner in a dry and warm room.

iii. Always clean the underneath part of your recliner's base.

iv. Regularly inspect the motor's cord and wires.
Connect to the main outlet
Since recliner motors work using electric power, it is advisable you connect them directly to the main outlet.
We recommend against using extensions as they can cause power overloads during power spikes or voltage jumps. Such power overloads can damage your recliner motors. And fixing these babies doesn't cost peanuts.
Prices pulled from the Amazon Product Advertising API on:
Product prices and availability are accurate as of the date/time indicated and are subject to change. Any price and availability information displayed on [relevant Amazon Site(s), as applicable] at the time of purchase will apply to the purchase of this product.
Keep recliner in a dry and warm room
Electrical parts and moisture aren't pals in any way; and your recliner has a lot of the former. Therefore, avoid keeping your recliner in any damp environment to avoid damage.
We know we love to snack while on recliners (they usually seem like the perfect spot), but keep liquid away at all costs; especially water. We wouldn't want a nasty shock now, would we?
Obviously, a power recliner isn't one of your outdoor furniture. Keep it indoors at all times. If you want outdoor furniture, try a patio chair or an Adirondack chair.
Always clean the underneath part of your recliner's base.
The base of your recliner is where your electric motor is usually located. To ensure the smooth workings of this part, always clean under your recliner's base.
Remove any debris clogging that might have gathered there. Doing this will prevent your recliner motor from overheating.
Regularly inspect the motor's cord and wires
Regularly inspecting your motor's cord and wires will enable you to detect sections that might need repair in the future. This way you'll be prepared beforehand.
Check out these other interesting articles below:
What is a Cocobolo Desk — The Full 411
How to Fix Sagging Patio Chairs — 8 Easy-to-Follow Steps
How to Refinish Wood Chairs — In 12 Easy to Follow Steps
How to Make a Blanket Fort without Chairs – 6 Easy Methods
How to Clean Suede Sofa — Getting Rid of 4 Common Stains
How to Reupholster a Recliner — In 10 Easy to Follow Steps
How Long Do Power Recliner Motors Last – FAQS
How much does it cost to fix a power recliner?
To fix a power recliner will cost you an average of $77 to $120. There is a possibility you could end up paying more or less. So, you could end up paying a much as $200 or as less as $50.
The factors that determine the cost of fixing your power recliner include the kind of repair, the time required to fix the recliner, and the number of power recliners to be fixed.
Power recliner common repairs include upholstery repair, cable replacement/check, reclining mechanism, electric recliner repair.
Do power recliners break?
Despite their durability, power recliners can break down. A power recliner is made of several parts and these parts can easily break down if not properly taken care of.
Three major break down issues are common with power recliners. They are electrical failure, mechanical failures and final break down due to age.
Electrical failures are the most common as power surges can affect the various electrical parts of the power recliner. These surges occur as a result of lighting, power interruption from the electrical company, and kicking off of large appliances.
Mechanical failures occur when the moving parts are not properly aligned and connected.
And finally, age will catch up with your power recliner leading to its eventual breakdown.
Do power recliners have battery backup?
Many power recliners come with a battery backup option that functions when there is a power outage or any related issue. The battery usually has a capacity of 9 Volts.
It is usually charged full on arrival and can be used for a month after a full charge. To fully charge this battery, you will need about 2 to 3 hours charging time.
You can ensure the longevity of your battery back up by ensuring it is fully charged after use. Also, keeping it dust free will lengthen its life.
If your battery gets damaged, you can replace it with another like the Staigo Battery Recliner Battery Pack and Adapter.
What do I need to know before buying a recliner?
Before buying a recliner, you need to know and consider the following:
i. The size of the space you want to keep the recliner – The size of your space will determine the size of the recliner you will buy.
ii. Your body size – The recliner must fit your body size.
iii. The style of your home – Are you trying to match the old style or you are trying something new?
iv. The build of the recliner and its features.
How much electricity does a power recliner use?
The amount of electricity a power recliner uses depends on the model and features. Most power recliners, however, fall within the range of 25.2 volts and 1800mA normal voltage and capacity.
The input charge voltage is usually about 24 – 32 volts DC. The maximum discharge current is about 5A.
For your specific model, you can just check the chair's label to find out. You'll find specifications that include the average power used in watts or kilowatts, the input charge voltage, etc.
Conclusion
Power recliners last much longer than regular manual recliners as you've discovered. You can further extend the life of your power recliner with the tips shared above.
If you have any questions or comments, please let us know in the comments section below. We always do our best to reply our esteemed readers as best as we can.