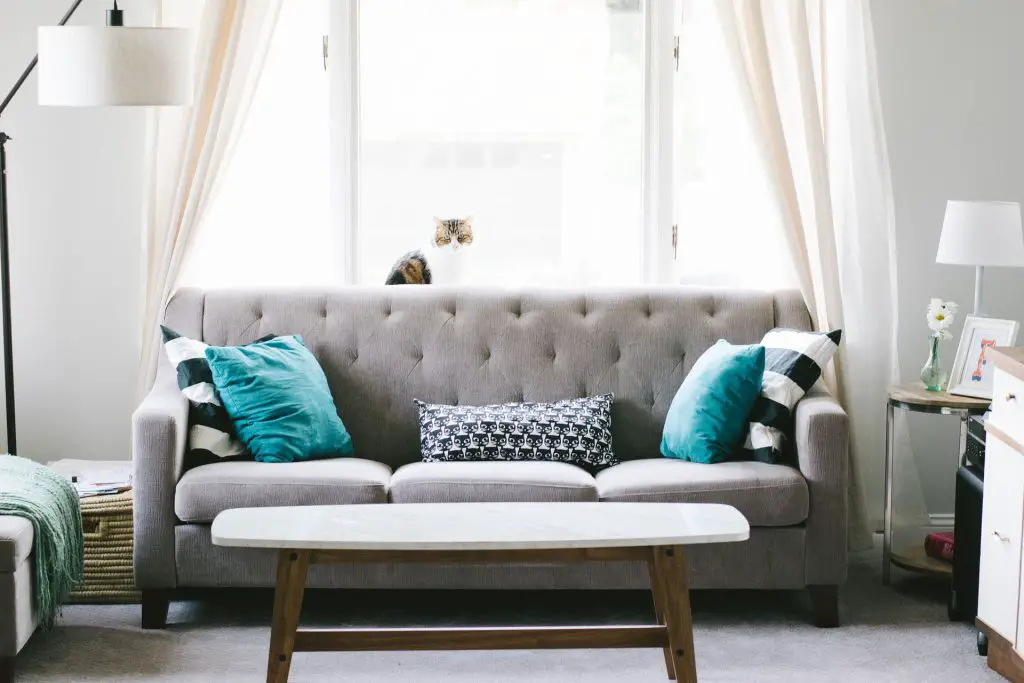 Sofas are an important part of the furniture in every household. They offer convenience as well as beauty to any room they are found in.
However, sofas when dirty can be a horrible sight to behold. And cleaning them can be somewhat of a nightmare.
With this how to clean sofa article, you can restore your dirty sofa to the beauty it once was.
Factors to Consider Before Cleaning Your Sofa
Before you start cleaning your sofa, there are important factors you must consider. Failure to do this might cause more damage to your sofa.
Go through manufacturer's instructions
This is necessary to avoid making your warranties void. Or outright destruction and damage of your sofa.
Check sofa tags
Most sofas come with tags similar to those found on our cloth. These tags give clues on how your sofa should be cleaned.
Make sure you fully understand these tags before cleaning. To aid you with proper understanding, please go through the table below carefully.
| | |
| --- | --- |
| Tags | Meaning |
| W | Clean using only water. |
| S | You'll have to buy a solvent-based cleaner for such sofas. |
| WS | Clean using either water or solvent-based cleaner. |
| X | Clean using vacuum cleaners only. |
How to Clean Your Sofa
For sofas tagged "X", you can easily clean them using a vacuum cleaner.
We recommend the BLACK+DECKER dustbuster Handheld Vacuum for cleaning this kind of sofas.
"S" tagged sofas can be cleaned using a solvent-based cleaner as we mentioned above. The solvent-based cleaner usually comes with directions for cleaning.
We recommend the Weiman Upholstery & Fabric Cleaner for such sofas.
Cleaning sofas tagged "W" and "WS" can be a bit tricky. The instruction below is strictly for these kind of sofas.
Items Needed For Cleaning Sofas tagged "W" or "WS"
i. Vacuum cleaner.
ii. Microfiber cloths: Specifically light-colored ones that don't bleed. You'll need at least three.
iii. Distilled water.
iv. Distilled white vinegar.
v. Dish-wash liquid.
vi. One bucket.
Steps on How to Clean Your "W" or "WS" Tagged Sofa
Step 1: Vacuum the sofa
This is necessary as it removes the debris or dirt. This way you won't be rubbing the dirt in while cleaning.
Step 2: Mix the cleaning solution
The ingredients needed are the distilled water, the dish-wash liquid soap, and vinegar.
Take 2 cups of distilled water and mix it with a tablespoon of vinegar and a tablespoon of dish-wash liquid in a bucket.
Step 3: Damp one microfiber cloth in the cleaning solution
Pick one of the microfiber cloths and dampen it in the solution.
Step 4: Blot stained areas
Using the damp cloth, blot stained areas on the sofa gently. Do not scrub or rub. Scrubbing or rubbing might damage the sofa's fabric.
Step 5: Moist a microfiber cloth in distilled water
Pick another microfiber cloth and moisten it in distilled water only.
Step 6: Blot stained areas
Using the moist cloth, blot the stained areas on the sofa gently. Once again, do not scrub or rub.
This step will aid in removing soap that was left while carrying out step 4.
Step 7: Blot stained areas with a dry cloth.
Pick another cloth but don't dampen or moisten it. Use the dry cloth to blot the stained areas again.
Remember: Blot not scrub or rub.
Step 8: Dry with a fan.
Direct a fan towards the stained areas to allow it dry completely.
If there is no fan available, allow it to dry naturally. Keep away from it while it dries.
Check out the video below.
How to Clean Your Sofa Using a Steam Cleaner
Some sofas can be cleaned using a steam cleaner.
Make sure your manufacturer recommends using a steam cleaner on your sofa before using it.
Steps on How to Use a Steam Cleaner
Step 1: Read steam cleaner's manual
Before you begin, make sure you read the steam cleaner's manual carefully.
Many steam cleaners flood the market, but one we recommend is the Hoover ONEPWR Spotless GO Cordless Carpet and Upholstery Cleaner.
Prices pulled from the Amazon Product Advertising API on:
Product prices and availability are accurate as of the date/time indicated and are subject to change. Any price and availability information displayed on [relevant Amazon Site(s), as applicable] at the time of purchase will apply to the purchase of this product.
Step 2: Vacuum sofa
 Vacuuming first is very important: Dust, dirt and other particles won't get in the steam cleaner's way while cleaning.
Step 3: Allow air circulation
You can do this by turning on a fan and opening the windows in the room.
This prevents residue and moisture buildup during cleaning.
Step 4: Do a spot test
Pick a hidden spot and test the steam cleaner on it. The effect will tell you if you can use a steam cleaner on your sofa or not.
Step 5: Steam clean the affected areas
If there is no negative effect after step 4, you can then steam clean the affected stained areas on your sofa.
Step 6: Allow sofa to dry
Make sure the sofa is completely dry before sitting on it.
Step 7: Vacuum again
This will completely remove any dirt that was loosened during the steaming process.
Conclusion
With the instructions and steps above, you can conveniently clean your sofa now.
If you have further questions, let us know in the comments section.