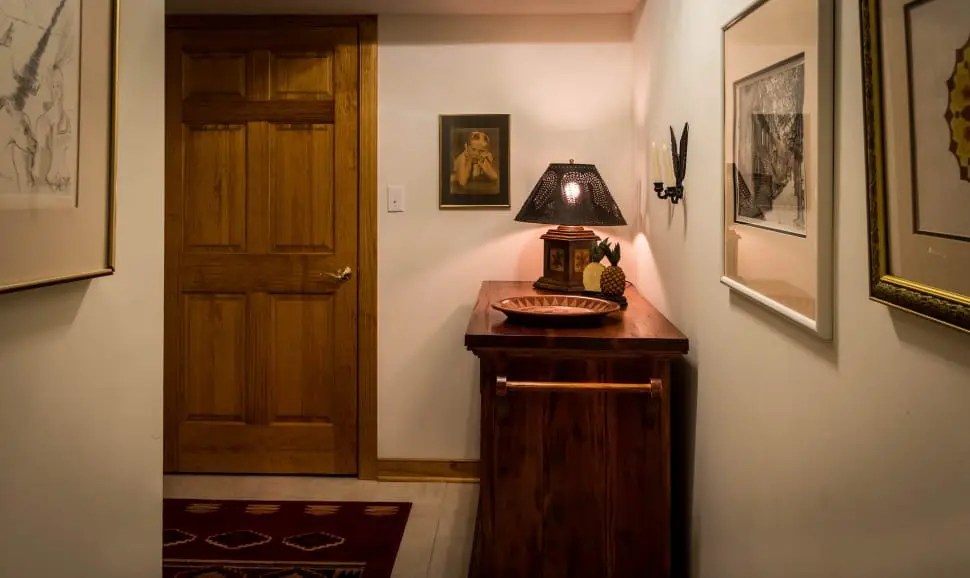 A credenza desk is versatile and can be called a lot of things. Some may call it a server, a buffet, and a sideboard. Typically, what it is called largely depends on what it is being used for.
Due to its versatility, at some point, you may have asked yourself what is a credenza desk.
In this article, we will explain what a credenza desk is. We will also go over its origin and its features. So you will clearly understand this complex piece of furniture.
Credenza desk: Definition, Origin, and Features
Put simply, a credenza desk is a piece of furniture with a long even surface and extra storage space.
Origin of Credenza
The word credenza is from the word credential, which is Latin for trust or belief.
You may be confused as to why a piece of furniture will be named after the word truth. However, when you discover the initial use of credenzas, it becomes understandable.
In the 16th century, a servant had to taste the drinks and food before it was eaten by the royal.  It was done in case the drinks or food had been poisoned. This was referred to as the act of credenza.
After a while, the room where the tasting happened was referred to with this same term. And soon, the piece of furniture where the food was kept became known as the credenza.
Naturally, this piece of furniture was not anything elaborate then. But with time, the desk began to take on some specific form and decorations.
Now, the credenza refers to furniture which shows and store items that are needed in a certain room.  
Features of Credenza
Usually, credenza desks have:
i. Short legs
ii. Long table-like top
iii. Several cabinets and drawers beneath
iv. Some credenzas have a hutch to provide more storage space. Like the Salinas 60W
Types of Credenza
In this article, we will be considering two types of credenzas. The office credenza and the storage credenza.
Office Credenza
Any credenza that has file drawers is classified as an Office Credenza. An office credenza is specifically designed not to look homely. A home setting normally does not have this kind of credenza.
For your office credenza, we recommend Martin Furniture Hartford Credenza.
Storage Credenza
A storage credenza does not come with file drawers. It can be used just about anywhere. At home, a conference room and your office.
It is used to keep items out of view. These items could make the room look less tidy and organized if left in plain sight. We recommend the Sauder Adept Storage Credenza.
Uses of a Credenza
You can use a credenza both at home and in the office. When used at home, it is usually found in dining areas. Keepsakes and tableware are often displaced and stored here.
In recent times, a credenza desk can be located in foyers and hallways. Since it provides storage and has a long table-like top, a credenza can be used in any room at home.
A credenza can be used in different locations in the office setting. It could be used in a conference room, a boardroom and the office.
You could store and arrange papers and your other office items on your credenza desk. The cabinets, drawers, and shelves give you enough room to store your papers away from your desk. This will make your working area tidy at all times.
There are several ways to use a credenza in a home and office setting. We will discuss this in the section below.
How to Use a Credenza in a Home Setting
i. You can use a credenza in the dining area to put your finest chinaware on display.
ii. You can use your credenza as a TV stand. A credenza's shape makes placing it against the wall ideal. And the flat table-like surface gives enough space for your TV. Your remote controls, DVD collections, and other items can be kept in the cabinets and shelves.
iii. You can use your credenza in your family room. Items that are used constantly, like games and toys can be arranged on the surface of the credenza. Other items that are not used as often can be stored in the cabinets beneath.
iv. During a party, you could use the credenza to display the food and drinks. You will be saved from a lot of kitchen trips because your plates and utensils will already be in the credenza.
v. Your entryway or large hallway could be made beautiful with a stylish credenza. Your seasonal decorations and beautiful flowers can be placed on top of the credenza.
You still have enough storage space for those things you never seem to have a place for. Check out this article for how to organize your desk.
Martin Furniture Hartford Credenza, Brown – Fully Assembled
3 utility drawers, 1 letter legal file drawer and a keyboard/pencil drawer.

3 USB 2.0 connections and 2 AC power outlets

Half finished back

The drawers are held by full suspension steel ball. This provides smooth use all through.

Dimensions: 31 W x 21 D x 69.5 H
Prices pulled from the Amazon Product Advertising API on:
Product prices and availability are accurate as of the date/time indicated and are subject to change. Any price and availability information displayed on [relevant Amazon Site(s), as applicable] at the time of purchase will apply to the purchase of this product.
How to Use a Credenza in an Office Setting
i. Use your credenza as a secondary workspace.
ii. Your work desk should always be tidy. Pictures of your family, pet, and other personal items can be arranged on the surface of the credenza.
iii. Add a bit of sophistication to your business waiting area with a posh credenza. We recommend the Tucker Double Pedestal Credenza Desk. The credenza also provides a place that you can store your magazines.
iv. In the conference room, arrange handouts and reports on your credenza. This will guarantee easy access to the documents.
If you are a DIY enthusiast, check out this video for how to build your credenza desk by yourself.
Conclusion
This article discusses the credenza desk. We have been able to discuss what a credenza desk is, its origin, and features. We have also identified some of the various ways you can use the credenza desk, both at home and in the office.
If you have further questions, do not hesitate to let us know in the comment section below.